THE MOST ENDANGERED VERTEBRATE ANIMAL ON THE PLANET
Learn what makes turtles so
unique and indispensable to our planet.
Having survived over 200 million years, including the dinosaur extinction event, turtles serve as a symbol for evolutionary success and longevity.
Without turtles, wetlands can turn into barren mudflats in just 8 months!
Discarded turtle egg shells provide nourishment for beach grasses, which stabilize our precious shorelines.
With long distance seed dispersal, turtles ensure plant diversity and survival.
WATERWAY SANITATION EXPERTS
Freshwater turtles clean up waterways five times faster than natural decomposition processes.
Tortoise burrows provide homes for 500 other species, ensuring the survival of hundreds of co-occcuring species.
The world today has entered into the sixth mass extinction event since the dawn of life on Earth; and for the first time, a single species is responsible – humans.
Anthropogenic activities are altering the climate of the planet, destroying habitats, and changing the natural balance of the world completely.
More species are disappearing now than during the harshest ice ages that previously swept the Earth.
We believe it is our responsibility as humans to now work towards protecting the species who share our planet. The evidence is daunting, but it isn't over.
At Turtle Island, we envision a bountiful planet, with abundant biodiversity of flora and fauna and thriving ecosystems. This vision, along with the practicality of science, drives us forward each and every day.
It is our joy to educate, inspire, and invite others to join the fight alongside us.
Wildlife population decline between 1970 and 2020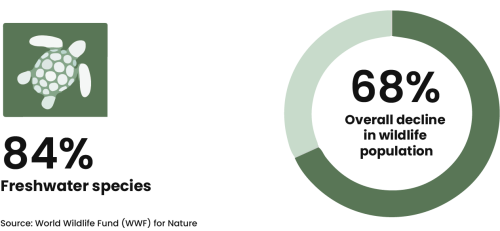 Our work is possible
because of you.